Pelatihan Bagi Customer Service – Jakarta |
Fasilitator: Dr. Dwi Suryanto, MM., Ph.D.
Tempat : Hotel Noor Jalan Madura No. 6 Bandung 40115
Tanggal :18 – 19 Juli 2019
Waktu : 09.00 – 16.00 WIB
Biaya : Rp. 3.800.000,-
Trainer : Dr. Dwi Suryanto, MM., Ph.D
Jadwal-jadwal  Pelatihan:
22 – 23 Agustus 2019

19 – 20 September 2019

22 – 23 Oktober 2019

21 – 22 November 2019

17 – 18 Desember 2019
Deskripsi
Gempuran persaingan yang sungguh-sungguh ketat pada waktu sekarang ini, lebih-lebih lagi di waktu ketegangan keuangan dunia, menyiapkan customer service yang jempolan bukan lagi hanya kenyamanan ekstra.
Ini sudah merupakan komitmen yang tak bisa dihindarkan lagi. Klien yang tidak senang dengan pelayanan perusahaan anda, nasabah anda cenderung dengan mudahnya pergi kepada kompetitor anda.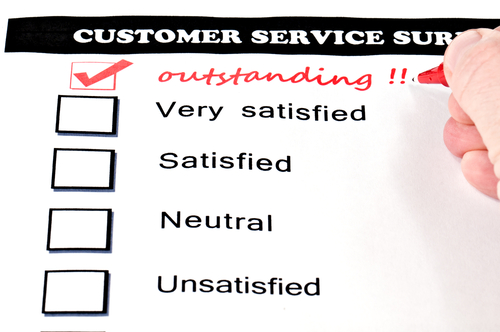 Apakah bidang usaha anda senilai ratusan miliar atau bidang usaha anda cuma mempunyai beberapa karyawan, pelanggan senantiasa mengamati bagaimana ia diperlakukan oleh korporasi. Yang pelanggan beli bukan hanya produk, melainkan juga servis yang prima.
Konsumen sering kali bersedia membayar lebih, hadir lebih jauh, tak mudah lari ke kompetitor asal konsumen dapat melakukan bisnis dengan perusahaan yang menghargai nasabah.
Mempelajari bagaimana anda melayani klien secara luar biasa akan berdampak pada hasil yang mengejutkan: Nasabah akan menjadi alat pemasaran yang mujarab bagi bisnis anda.
Tidak peduli apakah klien diservis dengan baik atau seadanya pelanggan pasti akan bercerita bagaimana mereka dilayani.
Saat orang-orang mengamati betapa bagusnya perlakuan anda kepada pelanggan, pelanggan akan datang ke tempat anda.
Mengapa anda semestinya menghadiri Pelatihan Bagi Customer Service – Jakarta |
Fasilitator: Dr. Dwi Suryanto, MM., Ph.D. ini?
Jawabnya mudah: Mempersiapkan great customer service membutuhkan biaya yang jauh lebih murah dibanding menyediakan pelayanan yang serampangan. Jelas dibutuhkan biaya yang amat lebih besar untuk mendapatkan pelanggan baru dibandingkan menjaga konsumen yang sudah ada.
Pelanggan akan lebih loyal kepada perusahaan anda apabila mereka dilayani dengan istimewa. Pada pokoknya pelanggan yang puas hatinya cenderung lebih berharap menjaga hubungan baik dengan perusahaan anda dibanding dengan pelanggan yang tidak puas.
Pelatihan ini akan meninggikan produktivitas, tingkat efisiensi dan efektivitas pelayanan perusahaan anda kepada nasabah. Jelaslah lebih gampang dan lebih cepat mempersiapkan pelayanan yang disukai nasabah dibanding memuaskan pelanggan yang telah terlanjur tak puas…
Manfaat Menghadiri Pelatihan Bagi Customer Service – Jakarta |
Fasilitator: Dr. Dwi Suryanto, MM., Ph.D.
Sesudah hadir pada pelatihan ini diharapkan anda akan:
Mampu memahami prinsip-prinsip service pelanggan yang prima. Anda akan belajar mengelola image dan sopan santun anda. Anda akan mengetahui bagaimana sikap positif anda akan memberi pengaruh persepsi pelanggan kepada perusahaan anda.
Mampu berkomunikasi secara tepat sasaran dengan konsumen. Anda akan mahir memilih kata-kata yang tepat dan melakukan eye contact yang ideal sehingga nasabah merasa hangat dan nyaman dilayani oleh anda.
Mampu bertanya yang tepat dan juga merespon pertanyaan dengan efektif sehingga nasabah akan menjadi merasa ditolong oleh anda.
Mampu mendengar dengan tepat sasaran. Dengan mendengar pelanggan secara efektif, pelanggan akan merasa dilayani dengan profesional dan merasa anda berada pada sudut pelanggan, bukan hanya membela perusahaan anda. Dengan sikap seperti itu klien akan merasa dibantu dan cenderung senang dengan pelayanan perusahaan.
Sanggup menciptakan rapport yang tepat sasaran dengan pelanggan begitu anda mulai berjumpa dengan konsumen. Pelanggan akan merasa dihormati oleh anda. Dengan adanya kesan seperti itu klien akan merasa bahwa anda ada di sana untuk menolong mengatasi keadaan sulit yang dihadapi oleh pelanggan.
Mampu menangani pelanggan yang berbeda-beda. Pelanggan mempunyai karakter yang tidak sama dan menuntut perlakuan yang berbeda. Dikala anda terampil menangani pelanggan yang berbeda-beda itu, maka pelanggan akan merasa dihargai oleh anda.
Materi Pelatihan Bagi Customer Service – Jakarta |
Fasilitator: Dr. Dwi Suryanto, MM., Ph.D.
Dalam materi customer service ini, trainer akan menjelaskan hal-hal:
Pondasi Dasar Customer Service
Mengartikan pentingnya first impression. Pelanggan akan melihat anda lebih dulu, barulah mereka kemudian mendengar anda. Peserta pelatihan sepatutnya sadar akan pentingnya penampilan…
Demikian penting tata krama dalam layanan klien. Audience akan menguasai metode-metode penting untuk menambah taraf tata krama
Sikap adalah yang utama. Bagaimana anda dapat betul-betul percaya pada diri anda sendiri, membuka diri sendiri pada pihak lain dan tidak stereotype.
Melakukan perihal yang benar, termasuk tata krama. Anda seharusnya bisa jujur, Mengetahui dan mendalami apa yang diharapkan oleh E-customer…
Prinsip-prinsip komunikasi efektif via surat elektronik…
Menghadapi Customer yang Sulit
Menemukan alasan ideal mengapa klien murka dan metode menanganinya
Teknik mengidentifikasi akar problem yang sebetulnya
Metode menyampaikan jalan keluar yang menolong klien…
Kiat mengakui adanya kesalahan perusahaan
Apa saja persoalan yang perlu dibenarkan sehingga masalah itu tidak terjadi lagi di kurun waktu yang akan datang
Target peserta:
Customer service representative, sales professionals, sales and customer service supervisors and managers, marketing professionals and managers, front line workers – intinya siapa pun yang harus kontak dengan konsumen!
Untuk menghadiri pelatihan ini, silakan klik dan isi form pendaftaran pelatihan.
Atau anda dapat telpon atau sms kami pada no:
0813-2161-6080
atau 0851-0161-0108
atau 0819-1058-7707